Easy Halloween Decoration Ideas To Spook Up Your Halloween
There's no better compliment to your Halloween decoration than your guests being spooked out or having the fright of their lives. This Halloween, be sure to impress (and scare) everyone. If you're new to Halloween decor or you think you need a little help, here are a few tips that might help you out. But before anything else, perhaps the first thing you must do is plan in advance. You want to start planning a couple of days before the 31st of October, so you know all the things you need. Remember, planning ahead means less stress on Halloween!
Halloween Decor Jack O' Lantern
One of the more traditional indoor Halloween decorations idea which can also be used as an outdoor Halloween decoration idea is to light up your Jack O' Lantern!
Halloween is not Halloween without the famous Jack O' Lantern! This year, instead of just carving out an angry face, add some variety to your pumpkins. You can carve in some spooky messages, a haunted castle (this might take some time!) or whatever comes to mind! If you plan to light up your pumpkin, a small candle or light bulb will do, especially if you plan to leave it throughout the night.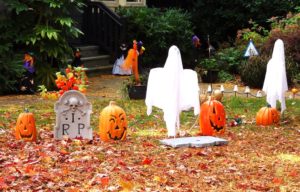 Halloween Decorations Backyard Graveyard
Another easy to achieve outdoor Halloween decorations idea is to create a spooktacular backyard graveyard!
All you need are black and white paint, a few pieces of Styrofoam, and voila – you have your spooky mottled headstones. You can put names of famous characters in the headstones – Frankenstein, Dracula, or whoever you want. Add drops of black paint to the headstones to make them look aged. To make it look scarier, add more decor like a skeleton hand sticking up from the ground, pumpkins, etc. Place lanterns by the headstones to create an eerie glow at night, and add dry ice for the ultimate scare fest!
Halloween Outdoor Decorating Ideas Spooky Tree
Scare your guests with the ultimate spooky tree!
If you have a tree by your home, this will make a great Halloween decor. The older and more sinister it looks, the better. Drape a couple of white sheets over a lantern and hang them from branches to create a ghost-like effect. Wrap the trunk and branches in fake spider web. Don't forget to add fake spiders!