How to Start an Indoor Garden
Starting an indoor garden is an excellent way to provide your garden with all the comfort and fragrances that it needs to feel like a natural part of your home. There are however many things that can go wrong when it comes to starting an indoor garden.
If you start with too many plants which are difficult to look after  when you first start, they are likely not going to thrive, And could be a waste of money.  They could  likely put you off your plans of starting an indoor garden altogether.
The key to starting indoor gardening systems successfully is two-fold.
Firstly, you need to ensure that the plants that you are growing are hardy enough to withstand the conditions that your indoor garden will put them through.
Secondly you need to ensure that you do not over-water your plants.
Make sure to check your pots for drainage holes and add the to your pots if necessary.
It's fairly common for indoor gardens to include, in their plans, herbs such as basil, borage, chervil and oregano. Whilst these herbs are extremely tasty, they may be too difficult to grow in your climate. Especially if you are starting an indoor garden in a colder climate. There are however many other herbs that can be included in an indoor garden, some of which you probably have herbs already in your home, such as thyme, basil, chives, coriander, sage and dill.

Where is the Best Place For Your Indoor Garden
Starting an indoor garden is usually done in an environment that is somewhat similar to the final garden you get. For example, an indoor greenhouse may suit the idea of starting an indoor garden. However, if you are looking to create a sanctuary where you can relax and enjoy, with your very own herbs and plants, it may be more suitable starting your indoor garden in a conservatory or sun room.
For a really authentic 'natural' feel to your indoor gardening environment, you could even choose to set up your garden in a terrace or at least a deck. The choice is yours!
To ensure that your plants to grow to their maximum potential, you should place them in pots that are suited to the needs of each plant and with the correct potting soil and nutrients to suit each type of plant.
Pots should not be overcrowded, there should be enough room for each plant to grow, drainage holes in the bottom of the pots are essential and the pots should not be heavy.
You should ensure that you keep the temperature of the pot warm during the growing season. On a hot summer's day you will need to protect the roots from too much heat and this can be achieved by placing the pots on a cooling pad.
During winter months when you are experiencing cold conditions it's best to relocate your plants to a warmer area. Consider adding artificial light if the natural light is not sufficient in the location where you have placed your plants.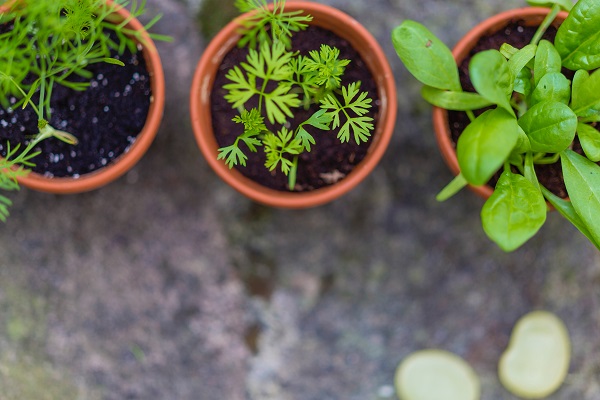 Choosing The Right Plants for Your Indoor Garden
Planting your herbs outdoors can provide some interesting advantages. Firstly it gives you the opportunity to choose the herbs you would like to be grown indoors and then experiment with different varieties before planting. For instance, you may be interested in a particular type of herb such as Rosemary.
If you don't have any natural Rosemary in your garden, you can buy them in a range of different colours and grow them in containers. This way you get the advantage of both planting varieties and trying out something new.
Indoor growing of plants can also provide a good learning experience. How to take care of plants can be learned quickly by starting to grow your own herb garden. As with most things, there are different methods to follow depending on the plants you are growing.
A large herb such as basil is usually grown in a pot. Other than using pots for growing herbs, you could use a fish tank (also known as hydroponics) and grow plants and fish in them at the same time.

Choosing the Correct Indoor Garden Containers and Pots
A popular type of container used for growing herbs is the indoor vivarium. This is just like a fish tank but the actual plants are grown in a plastic enclosure. This is the best way to get started as it gives you everything you need right from the start.
Once you have the basic skills of growing indoor plants it is easy to branch out into different areas such as herbal gardening or using other indoor plants and indoor vegetables. Even if you do not grow plants in this environment, it is still a good idea to have an indoor space at your disposal for relaxation.
If you want to grow your own herbs but have no herbs to buy, you can actually grow herbs in water. This is a very simple process and does not require a large amount of either soil or plants. It does require you to have access to either a faucet or a hose to get the water to the herbs.
Watering the herbs in this way is just a matter of putting the water into the plant's watering bottle and watering it every few days. Once the plant has grown roots down to the soil, you will be able to harvest the herbs.
Starting An Indoor Garden for Apartments
The success of Indoor Gardening depends on the responsibility and attention of the gardener. The first and foremost guideline of indoor gardening is to ensure a high level of efficiency. The gardener should make sure that the indoor garden is designed in such a way that it provides the maximum benefit with minimum input from the owner. The Indoor garden for apartments should be planned, developed, maintained, and decorated in such a manner that they do not pose any environmental hazards or health hazards for its visitors.
The size of the Indoor garden for apartments should be such that it is big enough to attract a wide variety of both vertical and horizontal flora and fauna, while at the same time not consuming too much space within the apartment. The primary consideration is the space available for the indoor garden.
A small Indoor garden for apartments can be a great choice because the gardener can still enjoy the essential benefits of indoor gardening. The gardener can use the garden to its maximum advantage by planning and developing it in such a manner that all the plants get proper exposure to sunlight. It will save on energy and money as well.
There is a general consensus that both vertical and horizontal plants serve different purposes when outdoors. While the vertical plants are used to provide shade and cover from the rain, the horizontal ones are used to prevent the escape of moisture from the air. Indoor gardens for apartments are usually designed with a combination of the two types but if you have a limited amount of space you may like to opt for either type so that you can utilize all the plant types that are at your disposal for their variety.
Simple Tips for Maintaining An Indoor Garden
It has been observed that due to increasing awareness, many people consider an indoor garden as an attractive option and are looking forward to growing their own indoor herbs, vegetables and fruits in this space. However, its a very common issue that people fail to keep an eye on their indoor garden and watering and tending to it. Only realizing their mistake when they have to deal with plants that have dried out and need to be urgently revived or disposed of.
When the space becomes overcrowded, the owner has no option but to move a portion of the garden to another area or remove it all together. This can reduce the space needed for storage but this means that there are more chances of contact with your plants throughout your home.
As you are completely responsible for the watering of your garden with no help from outside weather you need to establish a careful maintenance routine. You should always check the water levels in the containers and refill them from time to time if necessary.
Another way to increase the space available for storage and increase the health of the plants is the incorporation of a watering system. It is always advisable to make use of indoor gardening methods to automate watering if this is within your budget. A watering system is a simple yet effective and affordable solution for all types of indoor gardens, herb garden, indoor vegetable garden, tropical garden, clay garden and others.
For those who have limited outdoor space, having an indoor garden of flowers serves as a great substitute for making the interior space vibrant and eco-friendly. This will add natural elements to your home and magnify its beauty at the same time. Indoor flower gardens is always a great way to freshen up your space.
The aim is to further beautify your house interior. Indoor gardens can be decorated to appear like patches of nature in man-made or modern structures, as though it were an oasis in a desert.
The garden clubbed with home themes and furniture, provide a sense of balance to your house design. Many people treat the indoor gardens like a relaxation spot offering utmost serenity.
You can grow your plants indoor by putting them into nice containers. You may add a grassy patch or something that simply matches the theme of home interiors.
You can arrange indoor garden plant pots everywhere with a wooden background. Adding wood creates an elegant impression which resembles nature. Just mix & match the flowers and indoor gardening plants until you find a combination that suits your home theme.
Often in small spaces you can arrange your indoor herb gardens along a window sill or on a wall on shelves to save floor space.
Moreover, some people add another function to their indoor gardens – they plant foo
d sources, indoor vegetables and fresh herbs. When you decide to start indoor garden, remember that you should only opt for growing indoor plants and indoor vegetable garden plants that are able to be grown inside the house.
Having an indoor garden immensely adds to the overall beauty of your home. You can de-stress and enjoy a great time in this small relaxing area of your home. There are many therapeutic benefits of plants from the touch, movement and scents that you experience in an outdoor garden can all be experienced and recreated with a little care and imagination in your very own indoor garden.